Ahhhhh!!! So today is my SITS day and I forgot to post my welcome post!!! I had it on my list of things to do yesterday, and it completely escaped me!! Story of my life. I feel like Im hosting a party and forgot to be a greeter, and am hiding in my room. My apologies!!
So let me do a little explaining.
I head about SITS a few years ago, when I started blogging more regularly, and wanted to be a part of it. An amazing opportunity lay before me, and what better way to get exposure to a group of 0ther bloggers. Today is my day to shine. My SITS day. My day to be featured…and I almost blew it!!  A community of over 8,000 bloggers come together to form a community, and share posts, comments, chat in forums, go to conferences, and support each other. Thats why SITS stands for The Secret to Success is Support! Additionally, there is a featured blogger every weekday, and that's what I am today!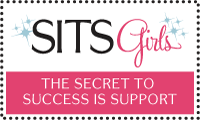 1)I love costumes. I love reasons to wear them, and I have way too much closet space being taken up by them. Many of my costume themed posts can be found here.
2)My house is a zoo. Between 2 cats and a dog, the dander and cat litter are plentiful..but I couldn't have it any other way.
3) My husband and I both have mustache tattoos on our fingers. He got his first, and I told him that when he proposed I'd get one too. We call it my commitment stache. Its fun to play with at parties.
4) Im an ex-sorority girl living in the Bay Area. Though sorority girl most definitely doesn't define me… people are actually sometimes shocked I was in one. I'm a California girl born and raised, starting my life in LA, school in SD, and been in the bay for 8 years. A majority of my friends from home and college having families, some with up to 3 kids! I feel like the Bay area is home to a lot of people with peter pan syndrome, and they dont want to grow up. Living here was always more of a party and work kind of life rather than family focused. Things are changing. My friends up here are maturing and starting the wedding circuit. I got married last August, and cant wait to have a family….stay tuned, hopefully things will turn around and I'll be able to actually post baby posts as opposed to stalking other peoples baby focused Etsy sites. Love making Wunzees for other people, but cant wait to make them for ME!
5)I like to think I'm crafty…though I've seen what other people can do. I was making Wunzees for a while, and if you need one, I still can. I am currently trying to make a new quilt, (the one below is a first attempt) and doing a bunch of small ones in the process. I wish i knew what i was doing!!
Anyway…I hope you enjoy my blog. Not traditional in the "I have focus" sense, but hopefully fun nonetheless. Thanks for visiting!!!